Morocco beat Colombia 1-0 to reach the Women's World Cup knockout stages, creating yet more history at the tournament.
Morocco have become the first Arab or North African nation to go beyond the group stages at the Women's World Cup, and the only one of eight tournament newcomers to advance.
Their winning goal came in first-half stoppage time, when Anissa Lahmari scored from a penalty rebound, after captain Ghizlane Chebbak saw her spot-kick saved.
The win means Morocco qualify second place in the group, behind Colombia, and their win ensured two-time champions Germany could not progress. The No 2-ranked side needed a win over South Korea in a game being played simultaneously in Brisbane, but were held to a 1-1 draw.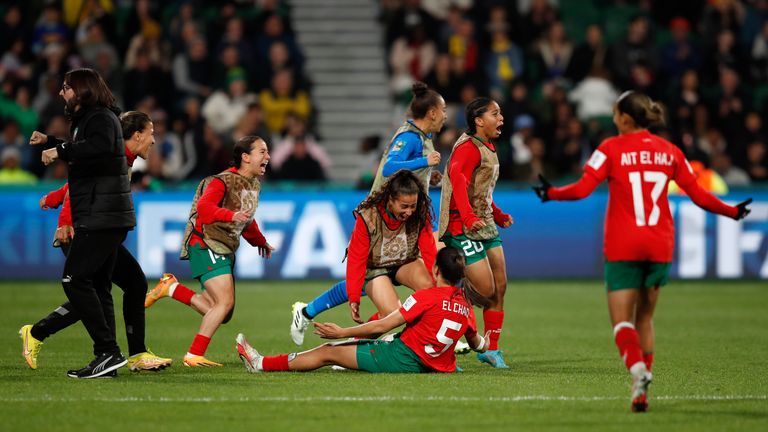 If Morocco's qualification for the Women's World Cup inspired a generation, this will cement the legacy of the Atlas Lionesses.
The Moroccans were trounced 6-0 by Germany in their debut game in the tournament, but bounced back with consecutive wins over South Korea and a Colombia team that had been growing in confidence after edging Germany.
Colombia had its best scoring chance in the 59th minute, when its 18-year-old superstar, Linda Caicedo, delivered a ball to the far post, but Daniela Montoya's first-time effort was saved by the outreached leg of goalkeeper Khadija Er-Rmichi.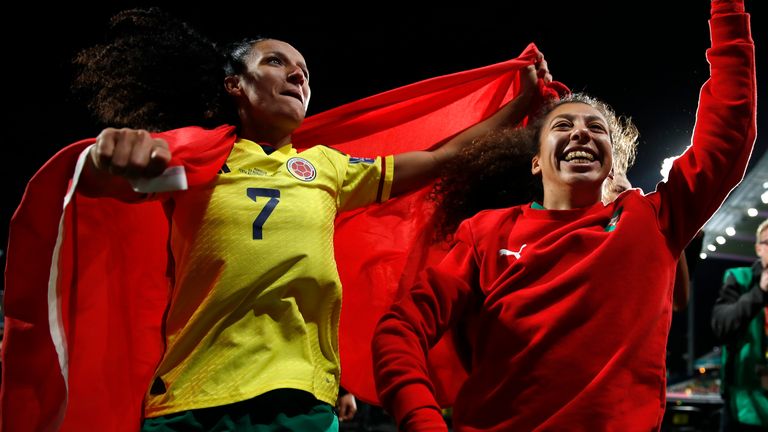 Why it matters?
Moroccan football fans have had plenty to celebrate with their national teams in recent years. The Atlas Lionesses had created history just by qualifying for the World Cup, and then just by securing their first win. Beating Colombia to knock Germany out of the tournament was completely unexpected for most.
Morocco's men's team also made World Cup history last year. In the 2022 men's World Cup, the Atlas Lions advanced to the round of 16 for the first time since 1986 and became the first African or Arab nation to reach a World Cup semi-final.
For Colombia, meanwhile, they topped the group for the first time in their history and reached the knockout rounds for the first time since 2015.
What's next?
Morocco, as the Group H runners-up, will play Group F winners France in Adelaide on Tuesday. Colombia face Group F runners-up Jamaica the same day in Melbourne.
What is the schedule?
With the group stage now over, group winners and runners-up progress to the round of 16, which takes place from August 5 to August 8.
The quarter-finals, which will be held in Wellington, Auckland, Brisbane and Sydney, are scheduled for August 11 and 12.
The first semi-final will then be played on August 15 in Auckland, with the other semi-final taking place on August 16 at the Accor Stadium in Sydney, which will then host the final on August 20.
A third-place play-off will be played the day before the final on August 19 in Brisbane.