A sublime Catalina Usme goal saw Colombia beat Jamaica 1-0 to reach their first Women's World Cup quarter-final, where they will face England on Saturday.
Neither side were predicted to reach the last 16, but more than matched up against tournament favourites in the group stages to set up an intriguing tie in Melbourne.
However, the opening 45 minutes turned out to be an attritional affair, with multiple stoppages for injuries and fouls.
But the second half flowed far better once Colombia captain Usme (54) fired home after a sensational first touch. It was the only goal the Reggae Girlz had conceded at the World Cup.
Drew Spence went the closest to an equaliser for Jamaica while Leicy Santos hit the post late on. However, Colombia – who had previously only made it as far as the last 16 in 2015 – ultimately did not need another goal, reaching the last eight and setting up a showdown with the Lionesses in Sydney.
How Colombia beat Jamaica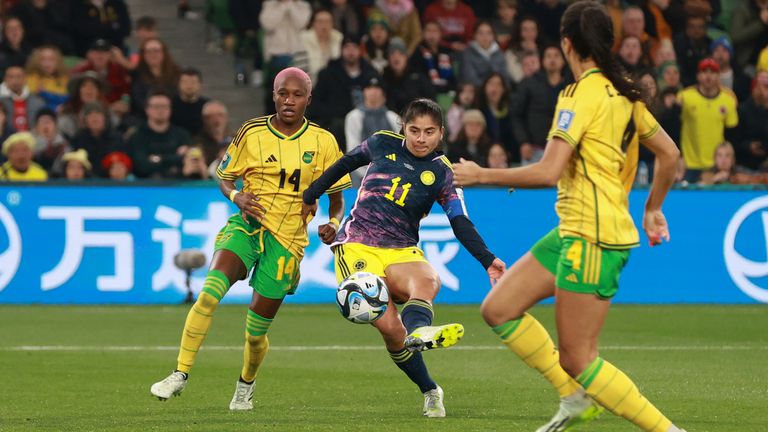 It was a stop-start, nerve-jangling opening half-hour in Melbourne, with very few chances. Colombia went closest – Diana Ospina's weak shot went straight at Becky Spencer, before a Usme cross into the area missed the run of Leicy Santos, only to be collected by the Jamaica goalkeeper.
Soon, the Colombians started to rack up the chances, ending the half with seven shots to Jamaica's two. After a succession of corners, Jorelyn Carabali lifted a shot over the crossbar from close range.
Jamaica's best chances came in the four minutes of injury-time. Khadija Shaw nodded over from a corner, before Jody Brown's toe-poked effort was scooped up by Catalina Perez.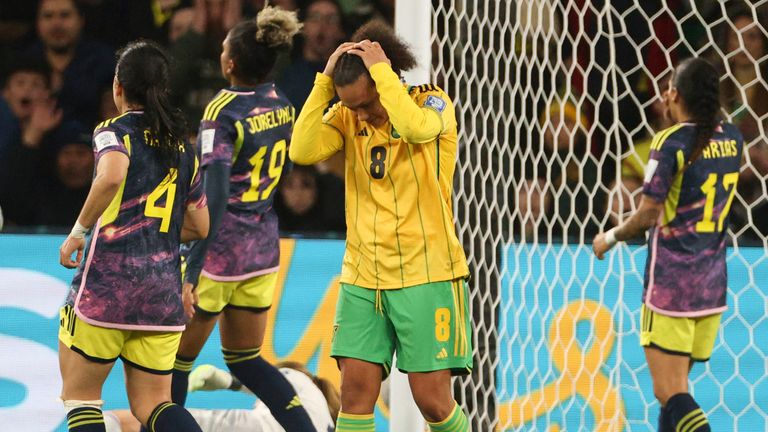 Nine minutes after the break, and the game burst into life as Usme gave Colombia the lead. Ana Maria Guzman's floated cross picked out the captain on the right of the area. Her first touch was world-class, getting the better of her marker before slotting home.
Jamaica almost equalised immediately but Jody Brown's hit the post with a stooped header. Linda Caicedo then saw a shot smothered away by Spencer, with the waiting Mayra Ramirez unable to control the loose ball.
Although Jamaica continued to push for the goal, it was Colombia who fashioned the better openings. However, the Reggae Girlz should have equalised in the 82nd minute but Tottenham defender Spence headed just wide of the post.
Colombia could have made sure of their quarter-final spot soon after, but Santos' header smacked the bottom of the post. But another goal was not needed as Usme's fine goal saw the South Americans into the last eight.
Abadia: It's better to make history than to tell it
Colombia head coach Nelson Abadia:
"When we qualified for the World Cup, the first thing I said to my team is that we are not here just to spend some time – we want to make history and it is better to make history than to tell history.
"We have consolidated a very strong group, both for the technical staff and for the players. We brought the 23 best players from our country, and we know how mature, how good they are."
On facing England in the quarter-finals, he said: "Because of their football and their history, we need to be careful, we need to be cautious.
"But in football we have already seen that the gaps between teams have been closing down and Colombia have been proven to be a solid team and we have been able to work on different circumstances. Slowly during the tournament, Colombia have been able to find our strengths thanks to the hard work the players are putting in.
"England are one of the favourites, that goes without saying. They are the European champions, but we also faced Germany. They were the second favourites, the second best worldwide, but we were wise enough.
"We had composure with our players, and we will face that game against England with composure. It won't be an easy game. It will be a very difficult match but in difficult situations we have proven ourselves before. "
Donaldson: Jamaica players gave everything
Jamaica manager Lorne Donaldson:
"First of all, just give Colombia credit. They were better than us tonight.
"Coming in with no games… I feel very happy for the players that they could perform at this level without getting adequate games to play. So I am very pleased with them. And you know what? They gave it everything tonight.
"We weren't very, very good tonight, but that's football and they should be proud of themselves, and I'm very proud of them."
On what he hopes young girls in Jamaica will take away from watch the Reggae Girlz, he said: "It's something we hope goes well. Cedella Marley currently has a programme in Jamaica that she's running.
"It's a very good programme for young girls and hopefully now we can get more young ladies involved.
"Win or lose, somebody gets something out of it. So what I'm saying is everybody now in Jamaica can embrace women's football and just make sure that from the primary school all the way up, they can say, 'okay, we want to do this'."
What's next?
Colombia will play England in the quarter-finals on Saturday in Sydney. Kick-off is at 11.30am.
What is the schedule?
The round of 16 concludes on Tuesday ahead of the quarter-finals, which will be held in Wellington, Auckland, Brisbane and Sydney, between August 11 and 12.
The first semi-final will then be played on August 15 in Auckland, with the other semi-final taking place on August 16 at the Accor Stadium in Sydney, which will then host the final on August 20.
A third-place play-off will be played the day before the final on August 19 in Brisbane.