Senegal could and possibly should have squeezed past Colombia to book at tie with England or Belgium in the last 16, but they fell to a Yerry Mina header form a corner to end Africa's involvement in the World Cup.
After Nigeria pushed Argentina all the way in their final group game, Senegal became the latest African outfit to suffer heartbreak at the hands of South American opposition and their exit was arguably even harder to take. Aliou Cisse's side didn't just concede a late goal, they bowed out on yellow cards. 
Colombia's 1-0 win saw them top the group but Japan and Senegal had the same number of points, goals scored and goals conceded (all four), while they had drawn 2-2 in their matchday two meeting.
However, Senegal became the first team in World Cup history to be eliminated on fair play, as they accrued more yellows (6-4) than their rivals for a last-16 berth. 
Even more gallingly, it would have all been so different had they taken their chances in Samara.
[embedded content]
Senegal dominated the first half, completely nullifying the threat posed by Colombia's much-vaunted attack. Indeed, they didn't even allow Radamel Falcao & Co. a single touch in their penalty area during the opening 45 minutes, while at the same time creating the better chances.
Sadio Mane ran rings around Mina only for the much-maligned Barcelona centre-back to have the last laugh. Senegal were, ultimately, victims of the narrow margins that decide games at the very highest level.
They needed composure in the final third but they didn't offer any, while they were let down at the other end of the field by the team's only Africa-based player. Goalkeeper Khadim N'Diaye could have done better as Mina leaped highest to score his fifth goal in 14 games for his national team.
There will be regrets all round, though; N'Diaye shouldn't be made the scapegoat for Senegal's exit. They must also must also back and wonder how they failed to beat Japan, despite having created more than twice as many chances as their Asian opponents.
Colombia also deserve huge credit for the way in which they responded to the loss of their talisman, James Rodriguez, who hobbled off in the 31st minute. In the second half, they gradually gained control of what felt like a home game for the South Americans, given the presence of some 30,000 Colombians in Samara.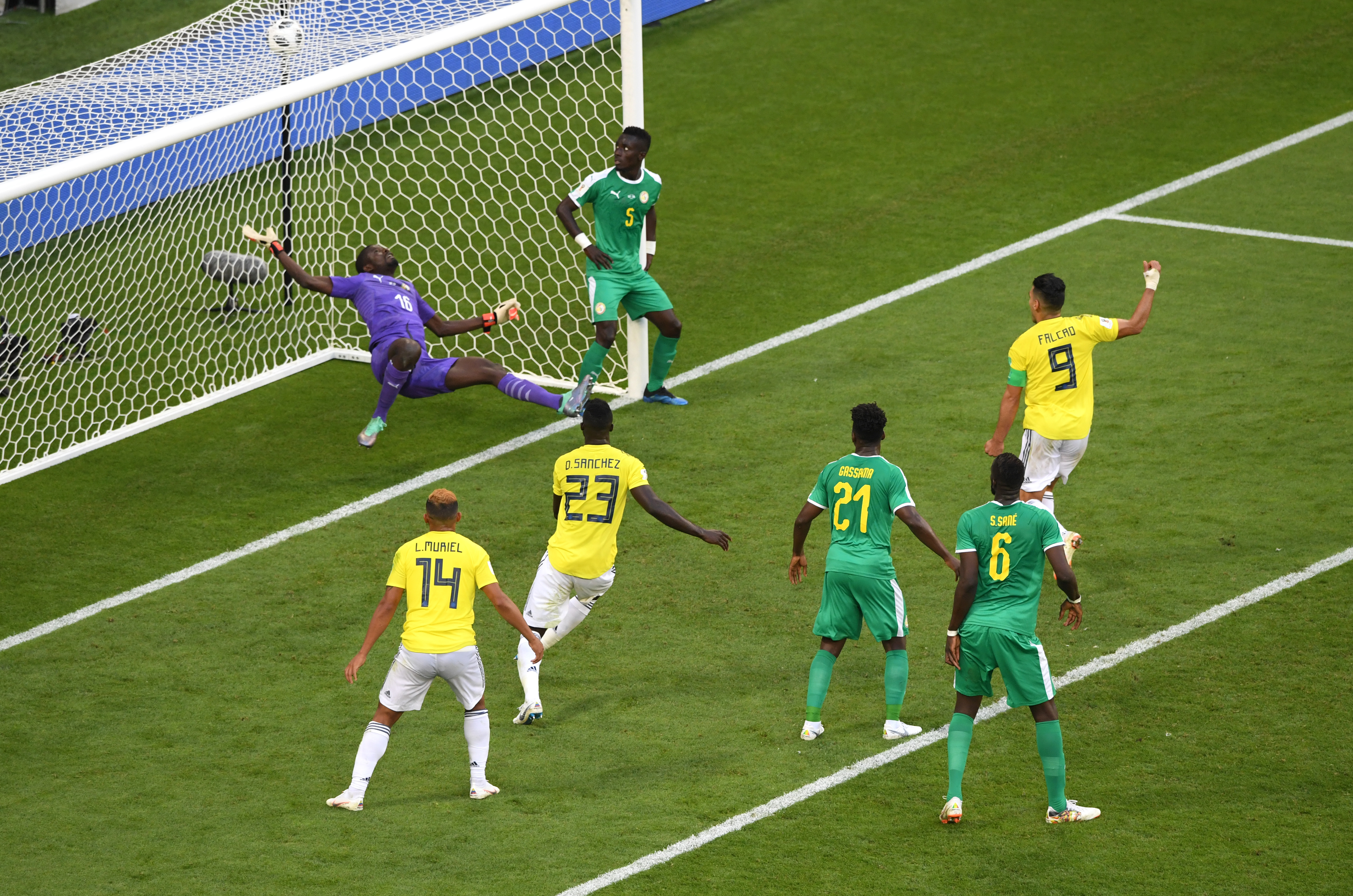 Falcao is an inspirational character for Colombia but Rodriguez will be sorely missed as Jose Pekerman's side prepare to do battle with either England or Belgium in the next round. Still, the attacking midfielder's injury was the one disappointment on an otherwise joyous day for the players and their supporters.
There will be nothing but heartbreak in Africa, though. As the legendary Didier Drogba had told the BBC beforehand, all of the continent's football fans had rallied behind Cisse's side: "I want them to go through. They are the only African team left. We have put our hopes in them, and I think they can do it."
Unfortunately, they could not, and now, for the first time since 1982, Africa will not have a representative in the knockout stage of a World Cup.
Senegal may have proved to be one of Africa's finest sides in this World Cup, but they did not prove themselves one of the tournament's best. At this cruel, unforgiving level, you have to be effective at both ends of the field and they came up agonisingly short in both regards.
The long wait for a World Cup winner from Africa goes on…
Let'